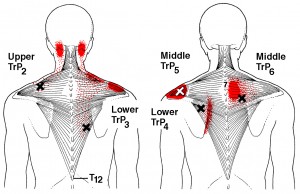 Do you have burning pain on both sides of your spine?  Does it look like the red pain pattern on the right side of the picture?  It may be the trapezius muscle.  As you see, there is one on each half of your body.
The trapezius muscles can cause pain on the tops of the shoulders, near the spine, on the inner side of the shoulder blade toward the spine and even on the back of your skull!
This picture shows trigger points.  The trigger points are the X's.  Those are the places to apply pressure (approximately) in order to get rid of the red areas.  The red areas indicate painful areas.
If your shoulder pain pattern is approximately where any of the the red is in the picture, applying pressure to the appropriate X may help get rid of the pain between your spine and shoulder blade!
Here are directions for using tennis ball therapy to apply pressure to get rid of the burning pain in your back.  I prefer to lie on the ball and let gravity work.  Just lie on the most tender place for about 5 minutes.  By then you should notice you feel the tennis ball less.  That means your muscles are relaxing.  Then find the next spot and repeat.
Or you could have a skilled massage therapist release your trapezius muscles along with any others that are causing pain in your back.
And here's a little video that will give you an idea of how to use tennis ball therapy when you are standing: Back Pain Relief Video It will also give you a laugh and laughter is good medicine.
How did the trapezius muscle get aggravated? Perhaps it was the way you slept or worked one day. Maybe you held or propped your head in a forward, downward position that strained the muscles along your spine.
Or maybe you have 'forward head' posture.  That means you slouch and your heavy head pulls on the muscles in your upper back.  They don't like that so they complain.
It's important that you learn how to correct your posture if that's the case.  There is a video in the Knots In Your Back program that will help you do just that easily.
Now you know what to do to get rid of the burning pain between your shoulders naturally when it's caused by trigger points in your trapezius muscles.  🙂

Tags: burning pain between spine and scapula, burning pain next to shoulder blade, Kathryn Merrow